It all started in a helicopter over Germany… From Germany to Florida and into Media Production & Design

My career in Media Production started taking shape in the early '90s when I was in the U.S. Army as a UH-1H helicopter repairman (67 N). I was a crew chief and flew hundreds of hours of mission flights in Germany, Turkey, and even Iraq. Occasionally, I was allowed to videotape on our flights, provided I kept monitoring the systems, oil pressure and kept a third eye out for electrical wires and other aircraft. I was on board three different flights where we struck a tree limb or had some other scare, probably one of the reasons I'm not a pilot today, but that's another story.
In my 4 years living in Germany, I began to take video and photos of my travels. When I started learning more about the art of videography, I only later found out I had been recording my videos in a substandard format — VHS NTSC, with just 240 lines of resolution. In comparison, today's HD has 1080 lines.
I resolved to learn more. I had always been a videophile so I delved deeper into the video and television industry, working in all facets of production, shooting local TV shows, producing local music videos, and editing others' work with a focus on quality. Though many budgets fell short, I strove to make it "look national" and though I fell short a lot, as the saying goes in many lines of work, "garbage in, garbage out" — the video industry is no exception. Sometimes there's only so much you can do with limited time and a limited budget.I then went to college with my G.I. Bill to get my bachelor's degree in Business Management.
In the interim, I translated German for a mortgage brokerage called Paul & Partners specializing in international real estate sales, worked as a graphic designer at Ogden Corporation's Cape Coral Daily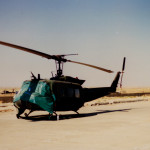 When I got out of the service after 5 years, back in civilian life, I managed a handful of vacation properties with my connections I made in Germany. I then expanded my services to home watch and lawn care — a natural combination of home services, actually. A great guy named Brian Haag, a realtor at Douglas Realty, sent me a bunch of referrals and those referrals sent me more referrals. Brian also gave me some very pragmatic and useful business advice. His father, the founder of Douglas Realty in Cape Coral, was very successful throughout Cape Coral Breeze, and I was hired to produce videos and TV segments including interviews of the like of Representative Porter Goss, Habitat for Humanity, the president of MADD, and local music bands for a local cable TV show and agency.
I worked at Nite-Bright Signs as a graphic designer for large-format fleet graphics, then as a graphic designer/ad builder at Gannett Corp's Fort Myers News Press. In 1997, I had the first videos streaming on a website I was hosting, the web and videos were a compelling and promising combination.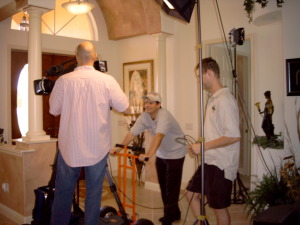 From GM to Co-Founder of an Advertising Agency
After two years working for the TV station, I became GM of a large-format display company before venturing out on my own.
It was a great experience, and we built up a pretty impressive client list as we expanded and became quite diverse, offering services such as large-format print and signs, websites, 3D animation, and full-service video production with a video studio.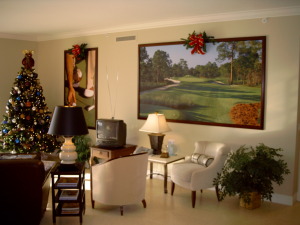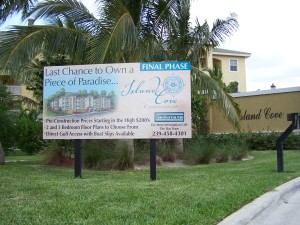 Building a business means building a network of connections
Services ranged from marketing plans and media placement to producing TV infomercials and websites to the complete pre-visual layout and design from concept to completion of entire sales centers for new planned real estate communities that included maps, massive backlit displays, full window displays, home elevations, and video kiosks.
One of the funnest things I did in my career between 2003 and 2010 was teach college-level courses for web design, graphic design portfolio, and 3D animation. We started training interns for college credit then later I worked part-time at Southwest Florida College as an adjunct. Then after the housing crisis in 2007, I worked there full-time as a professor and their marketing strategist, placing their conventional media.
2007 and 2008 was a very tough time in Southwest Florida. I saw many friends struggling financially, it seemed within months the economy had spiraled into an abyss. No one could pay their bills, people stopped advertising contracts abruptly, they had to lay a large percentage of their workforce off. It was a terrible time and it seemed Southwest Florida was Ground Zero. Within a year, company's with billion-dollar plans were contracting.
The hospital was in a hiring and spending freeze. WCI Communities filed bankruptcy and we saw many friends struggle. We were diverse enough in the services we offered, but many local companies were collapsing like dominoes, which means they reduced their investments in growth or left the market altogether.
The irony is that when business slows down, the advertising budget is the first to get slashed, even when companies know they need advertising, it's viewed as a luxury. But advertising is an investment that accrues and is meant to build business into the future, so when a wave of businesses stop advertising to save money short term, their phone stops ringing in the long term and their revenue stream continues to contract.
Back to the Workforce as Director of Advertising for 50-Store Jewelry Chain in the Midwest
"How did you get from Southwest Florida to South Dakota?" I have been frequently asked. Well, it's a funny story, actually. I had been teaching portfolio class at Southwest Florida College, one of many classes I taught, this one had an emphasis on web portfolios — guiding students to showcase their talents online when I was showing them Careerbuilder and how to post a resume and link to their own website. I used myself and my own real resume as an example. About a week after this in-class demonstration, I received a call from one of the founding owners of Riddle's Jewelry, an amazing visionary named Joyce Riddle.
Joyce introduced herself and explained that she was in search of someone with advertising and web experience. Riddle's was based in Rapid City, South Dakota. Would I consider moving there?It was an intriguing proposal and it seemed like an adventure and a new challenge. Why not consider it? After many pros and cons discussions, I thought it was worth pursuing. Their website was a disastrous mess, but their advertising, branding and marketing, though dated was built around the personal, family service. So much classier than Jared's or Zale's, so much more personable.
Helping to expand and modernize a traditional, established Midwest family jewelry business.
After joining the Riddle's Jewelry advertising team, they actually treated their employees like family. It was a great company, and family, to work for. I am so thankful to the Riddle's family for giving me the opportunity to work for them. Even with all of Rapid City's charm, it's too small of an economy and the housing market is highly constricted and inflated. It seemed there were far too many limitations in this isolated area of 70,000 people so after 3 years, it was time to look for something more secure with a more dynamic housing market.
Training is part of marketing. Training to constantly improve customer service is paramount for any business. If your customer service is poor, fix it before you spend a dime in advertising. Why spend more money to anger more customers?
Fix the customer service problem if you have one, this is the first goal of any marketing. If your Marketing Director doesn't continually ask about the quality and level of customer service and does not seem concerned about the customer experience, you need to find a better Marketing Director who understands this critical dynamic.
I learned a lot from Riddle's and I helped them transform into a modern company, even if they didn't like the changes or foresee the benefits in increased sales conversions at the time. Change is hard, here are a few of the biggest changes I either implemented myself or was instrumental in helping them achieve:
In store, if they didn't have an item for sale, they would phone around and even fax other stores for the item. I created a centralized web portal that was wired into their COBOL — yes, COBOL, inventory system that could deliver full-color images of any items the entire company had for sale. This way, a clerk could show the customer a picture while they were still in the store. What a concept.
I redid their website. The first time, I modernized it with their existing homemade shopping cart system before the holiday season, incorporating a new look and much more inventory. Two years later, I lead the team to transfer their entire eCommerce system to Magento and use responsive design to accommodate mobile devices.
I created plans and concepts for their advertising campaigns with a focus on personal service and new products. I developed new strategies that leveraged their national presence and scaled their advertising nationally through media placement of millions more satellite subscribers (satellite subscribers are much higher consolidated in the Midwest), expanded Facebook and social media efforts, all while modernizing parts of their business systems and infrastructure.
What does managing inventory have to do with marketing, you may ask? Marketing helps you figure out what people are buying. It's all interconnected, so you can shift your inventory and stock shelves in one location where pearl jewelry is in demand in one place and colored gems are big in another. Computers can calculate a lot of information really fast, so if your company has a lot of inventory, you need to stop guessing and let the computer work for you so you make critical inventory and placement decisions based on stacking the odds in your favor.
You don't try to force people to buy something just because you have an abundance of it, you listen then just nudge those with targeted advertising to discover your products, products they're already looking for. How do you find this out and make better inventory decisions? Market research.
I always approach a new challenge and present solutions based on a simple question — "What would I do if it was my business, if it was my money?"
Two National Magazines and an Insurance Agency
As the Senior PHP Web Developer in Jacksonville, I found a dynamic and unique challenge in Ponte Vedra Beach.  As the Senior PHP Developer and Lead Business Systems Architect, I planned and executed the ETL processes and created special software to migrate over 40,000 customer and sales records from a legacy database to a newly designed, scalable MySQL e-commerce system from the ground up.  I moved their base code, supporting e-commerce forms, data, and backend dashboards to the PHP Symfony framework.  I modernized their web department to best-practices, including SVN then later adaptation to a Git-centric flow with code reviews and better team redundancy.
All this while deploying new heavily-customized WordPress sites and deeply integrating customer data by customizing APIs and data flow between Campaigner, Mail Chimp, publishers, and their own CRMs like SalesForce, InfusionSoft, and Odoo (formerly OpenERP).  Optimization of systems is a continuous process, just like new code releases, system enhancements, and extended functionality that helps streamline processes while automating more marketing, research, and business development tasks.